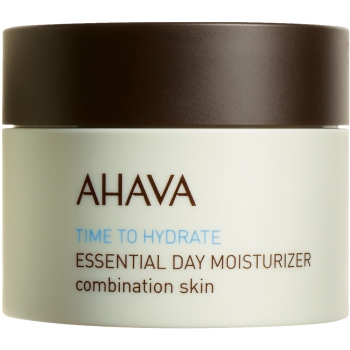 Ahava Essential Day Moisturizer for Combination Skin, $39.50/1.7 oz. at Nordstrom
I tell you much too often about my combo skin. Well here we go again but with an update….I get a little giddy when I see combination skin on anything. It makes me happy because it is like the universe recognizing that I'm out there. I like any indication or acknowledgement that I have got some special issues.
With combination skin you suffer a strange kind of dual life. I look at my normal cheeks and chin and am happy and then I go to my t-zone and access the damage. Could I cook eggs on my forehead? Does my nose look so shiny that I could see myself in it? Mmmhmmm I get brutal with it! The things that run through my mind aren't pretty. But there are things that help and when you find one it's special.
A moisturizer that gives love to both areas of my face is hard to find but this one does my hard to please face a lot of favors. It keeps my normal and somewhat oily areas looking good and as a bonus smells amazingly good.
From ahavausa.com:
This ultra-light, oil-free cream-gel is ideal for combination to oily skin, providing skin with essential all-day hydration to keep a youthful look and supple feel.
Vitamin E increases moisture levels, improving skin's elasticity and reducing wrinkle depth
Soothes and protects against irritations while moisturizing with Aloe Vera extract and Provitamin B
Results in a matte finish and smoothed texture that minimizes visible pores
On day one I was skeptical. I smelled the moisturizers yummy scent as soon as I opened the container and thought oh boy. This smells rich…very rich like a high end body butter. I love the smell but if you are looking for something low key-this isn't it. But I should have known I would be ok because this is a cream/gel consistency. Something about gel (mostly) products always works for my skin. I feel like gel products float onto my skin and absorb easily without disturbing much.
I love this stuff. If you have combination skin its worth a try. It's a pricy moisturizer so keep your receipt just in case but I think this might be a big hit with your face! Check for Ahava products at Ulta and Lord & Taylor also. I always see the products at Nordstrom but there are some other options if you don't have a Nordy's near you.