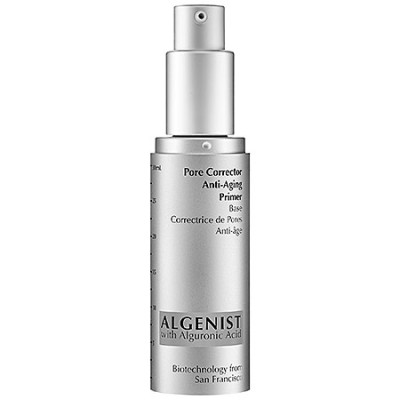 I'm a serious believer in a a good primer. I used to never use the stuff and then I saw the light! A good primer can do something positive for your skin as well as keep your makeup looking perfect for few extra hours each day. I tend to be a bit of a primer snob but this product from Algenist has really opened my eyes to higher end primers and made me think that utilizing something like this should be a serious consideration if you have skin you want to treat/protect and you aren't 20 years old anymore!
From the Sephora website:
What it is:
An antiaging primer that creates a satin-soft finish for smooth, long-lasting makeup application. 
What it is formulated to do:
This antiaging primer is formulated with Alguronic Acid and seven powerful ingredients to visibly refine pores, blur fine lines and imperfections, and improve skin texture and tone over time. It evenly distributes onto the skin, smoothing the skin while prepping it for long-lasting makeup wear. 
What it is formulated WITHOUT:
- Parabens
- Sulfates 
- Phthalates 
Research results:
After immediate use: 
- 93% of subjects had softer and smoother skin 
- 90% of subjects had improved makeup application and wear 
Within 10 days of use: 
- 93% of subjects saw an improvement in the appearance of fine lines and imperfections 
- 90% of subjects saw an improvement in the appearance of pores 
Results obtained using product once daily before applying makeup following self-assessments of 100 women. Average result measured following an in vitro test with Alguronic Acid.
So since I am not 20 anymore I have some skin concerns and the one of the biggest ones other than discoloration is texture. I like smooth skin. Who doesn't? Well this primer made my skin feel baby soft the more I used it. Very strange right? A primer having that type of effect on the skin? Well its true. I loved putting this on under my makeup. Its more like a treatment serum to me with makeup priming benefits. I would remove my makeup each day for weeks and be amazed that my skin just got softer and softer. The rougher spots got smoother and my makeup was lasting a few extra hours each day. My pores weren't as noticeable either.
There was only one downside for me. I tested this out for several months and as soon as it got hot in early May I had to stop. I have combination skin and I think this is a better bet for my skin type in cooler weather. I found that my oily t-zone was too much for this primer when its over 80 degrees.
So if you have normal skin or even dry I think that this is something that will work for you year round. If your a combo to oily girl I'd recommend saving this one for cooler weather.
There are so many other Algenist products that I want to try. This is not the end!