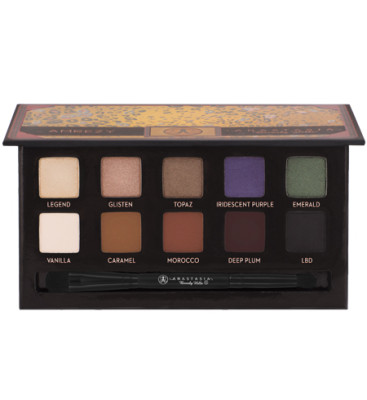 I had to pick this one up! I like Anastasia palettes and this one was calling my name. I really enjoyed using the palette during the last two weeks. I think its not a must have but a nice to have palette. I love the warm colors in the palette especially. Caramel and Morocco are just gorgeous. I can't get enough of those two! I thought my favorites would be the purple and green shades and even though they are really pretty (especially the green!) I really used the warmer shades and shimmers more often.
Here are some quick swatches! Sorry the lighting changed up on me from the first pic to the second one. It's hard to believe thats the same hand lol!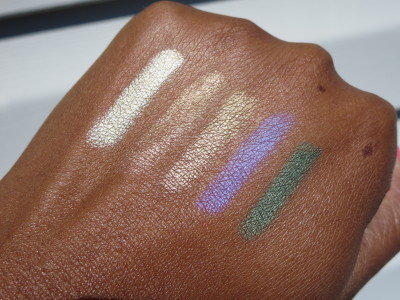 Legend, Glisten, Topaz, Eridescent Purple, and Emerald 
Vanilla, Caramel, Morocco, Deep Plum, and LBD
The shades are really nice quality but there is some fallout (minimal) so I do like working with these colors. My favorite shades are Caramel, Morocco, Emerald, and Deep Plum. I was so surprised by how beautiful Deep Plum is. It's a matte shade (the whole bottom row is) that I haven't ever seen done as well. It's smooth and easy to blend. For a shade so deep thats fantastic. LBD is nice but I've seen deeper darker matte black shades so this one I would say is decent but not the best I've ever seen. I'm not really happy with the palette packaging because it gets really messy quick! But that didn't stop me from picking up the palette that came out after this one the Maya Mia.
Check this palette out before its gone. The palettes from Anastasia tend to come out and disappear rather quickly. I do hope this palette and the Maya Mia stick around for a while. Hopefully this time they will keep these palettes out there in stores until everyone has a chance at them! I picked my palette up from Ulta for $29.