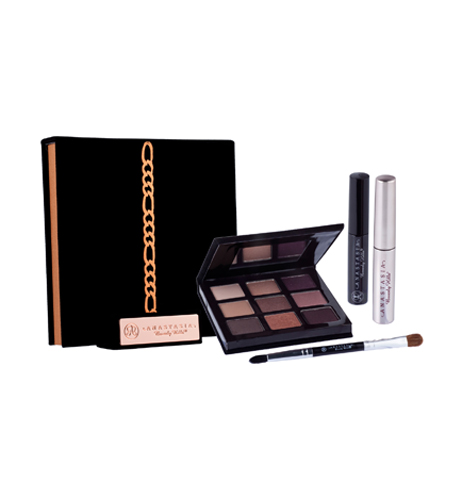 I love this time of year because you can get DEALS. Here is a kit from Anastasia for $34 that includes lots of color for an eyeshadow crazy person like me or YOU!
Wait I didn't show you the main clutch/box yet. Here it is! Check out Jinx's clutch carrying technique…..
I love the idea of breaking this out of my purse. It's so cute! There is a tube of black liquid liner and clear brow gel inside the box along with a two sided brush.
Now some quick eyeshadow swatches, click on the picture to make it BIGGER:
There are two matte shades and I can't tell you how much I love that one of them is named Members Only. Like the jackets. I think I have a picture of my dad with one of those on somewhere….crazy. My other favorite color is Iron On. Its on the bottom right hand corner of the palette and it reminds me of Mac's Beauty Marked but it's way smoother. I love Anastasia shadows because they smooth on to my lids and I don't have to use a cream base to get them to show up well. You can also use them wet as well as dry.
Overall I like the mix of colors. Plenty of pretty nudes with some gold and taupe mixed in. I think this is perfect for a trip or for work days when you don't want to look like you are heading to the club after work. I know you've had a co-worker that pushes work appropriate makeup boundaries. I have had a few. There was a girl I used to work with that always looked like she slept in her club makeup the night before and just rolled on into work the next day. There is nothing more entertaining than that. I kind of admired her. She always had her face on which is more than I can say! I rolled into work makeup free and with a bad attitude.
Check this out at Sephora or anastasia.net. For $34 its a great kit.
*press sample