Anastasia Catwalk Palette, $29 at Ulta
This has got to be one of the best new palettes for Fall out there. The colors scream autumn and they are just so rich and beautiful. I picked this palette up at Ulta. I stuck my nosy little fingers in and it swatched beautifully. I wish more palettes were like this. There isn't a bad shade in here and thats something when it comes to palettes I don't say very often.
Here are some quick swatches!
Call Back, Strut, Scout, Beauty Mark, and LBD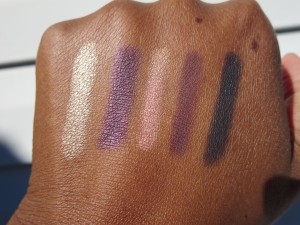 Day Rate, Couture, RTW, 10k, and Pose
Beautiful huh? Love these colors! Such a beautiful blend of three mattes and seven shimmers. Check this one out if you are looking for a great Fall palette. I think you'll be pleased!