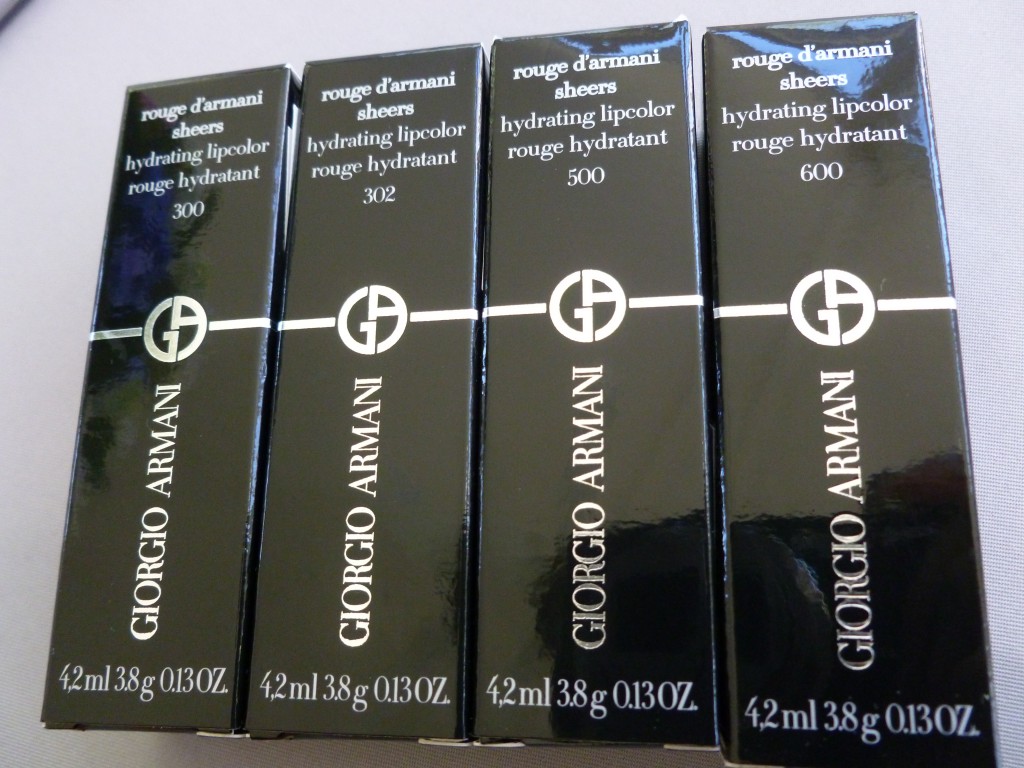 Rouge d'Armani Sheers 300, 302, 500, and 600
I was going to skip these. I wasn't going to get one of them but here I am with four! Why? Because the reviews I read kept stating that these were so comfortable to wear and full of moisture. I am a sucker for a moisturizing lip product even if it is a really nice color infused balm. Yes I said it, this is an amazingly comfortable balm with the Armani name on it and I'm so happy I have it.
Here is some information from the Armani website:
Featuring a creamy texture, feather light and translucent, as hydrating as a balm. The brilliant bold color is wearable and chic.
A cutting edge color formulation process: the Color Shine Moisture Polymer, a revolutionary component able to retain twice its volume of water, enhance color luminosity while locking in hydration on the lip surface for over 8 hours.

At $30 per shade this is a pricey balm. I know that. It's a pleasure to apply (think YSL Rouge Volupte type pleasure) and I plan to wear my shades out. Even though it says Armani on it I think of this as something thats great for everyday wear. You don't need a mirror to apply and your going to look "done" and like you tried. I say all that to relay why this type of thing is perfect for me. And the one thing that they got right on this effort that makes it a home run in my opinion is that its a glossy balm. If it was a true Chapstick like balm all of these would have gone back to Nordstrom after I opened the first one. These Sheers are really nice and glossy and not chalky in any way. I really like them. Lets take a look at the colors I got.
Rouge d'Armani #300, Acid Tangerine
Rouge d'Armani #302, Orange Mutation
Rouge d'Armani #500, Ecstasy
Rouge d'Armani #600, Bitten
I am getting an average of about 5 hours of wear from these. They have no smell or taste which is great and they don't fade strangely after meals. Did I mention touching up is fun? It is!
I think that they are a great fit for someone that doesn't love lipstick and just likes a bit of color. Or a lip product junkie like me! My favorite hands down is #500, it's amazing. I think that I could have skipped #300 but its a great fit for someone that wants to find a respectable orange shade that will go with the trend. I love #302 because its a strong coral which is a great fit for someone with pigmented lips like me. I love a good blend of orange and red. I'd say #600 is a great pick for the sophisticated ladies out there. I think its a great shade for any season really. There are twelve Armani Sheer shades in all so this is quite a varied collection.
These Sheers are a great addition to the Armani line. Check them out at an Armani counter near you!
Rated A