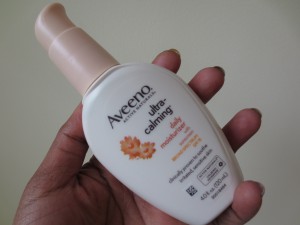 Aveeno Ultra-Calming Daily Moisturizer Broad Spectrum SPF15, approx. $17 at the drugstore
I have had a tough relationship with facial moisturizers. Like most people I slather my body with lotion like it's going out of style but with my face trying a new moisturizer fills me with dread. I for some silly reason associate moisturizers with breakouts because my skin goes nutso if I use something new and its too moisturizing. It's zit city…population ME. When I get a zit the world is not as fun a place. And if a little crop/army of darkness shows up (that means three or more zits) I stop using the product immediately and curse myself for being fickle and trying new things.
Why did I go into all that? Because this shouldn't give you any of that anxiety! It's for sensitive skin and I think a great fit for most of the people out there looking for a good moisturizer with SPF. Ok so lets just deal with one of the issues I've always had with SPF….it's been the most ignored ingredient in most of the moisturizers I consider when I'm looking for something new. There I said it. I am horrible at paying attention to sun protection and yes I know that is stupid. In the very few moisturizers that I've tried with SPF, well it hasn't been a good experience. It's left a strange cast on my deeper skin tone and been a bust because it's been way thicker than I'd like. I felt like I was getting covered with a blanket. Yeah I went there. Hey I'm honest!
This isn't like that. First off you need a tiny bit. Which at the price point is good right? In the picture below the amount on my hand is way too much for my face and neck. You need like half a pump at most to do the job. I didn't find this to be very thick and I feel like it relieves my dry areas (cheeks/around my mouth) and provides just the right level of moisture on my combo/oily areas.
I don't have issues with redness but a friend of mine swears by this for calming her sometimes blotchy redness down. She's very fair skinned and hasn't had much luck with moisturizers in the past either. And I don't think she'd mind me telling you that she's cheap..I mean thrifty. So the fact that she uses this exclusively tells me that it's worth it because I know she doesn't play when it comes to saving money on products.
This is going to be a great fit for a variety of skin types. Check it out at the drugstore and take a look at my post on Aveeno Ultra-Calming Makeup Removing Wipes and Aveeno Ultra-Calming Foaming Cleanser. This is a great trio if you are someone with sensitive skin or if you want to see if you'd benefit from using less harsh but very effective skin care! As someone with combination skin I think this is a great fit for me.