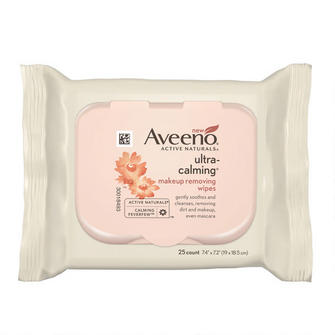 Aveeno Ultra-Calming Makeup Removing Wipes, 25 count/$7 (approx.)
I have used quite a few makeup wipes over the years. Almost every brand at the drugstore but these are special. I think if you have sensitive skin these are a must try. You are going to love these!
I am very wary of makeup wipes that are harsh and have a chemical smell (gross) but with these I can wipe my face, neck, and eyes and my makeup is gone and my skin feels fresh and clean. I love the smell. It's a nice clean scent.
There is a lot to be said for products that use good ingredients to complete tough tasks instead of something that does the same job using not so good for you ingredients. Often times these products are at a higher price point but they are worth it. I like that despite being geared toward sensitive skin I didn't notice that when it came to getting my eye makeup off. These wipes handled my long wearing makeup well. That's a must. It's no good if something is gentle and doesn't do the job right?
From Aveeno.com:
Sensitive skin can be unbalanced, leading to irritation and redness. Help rebalance your sensitive skin by cleansing with AVEENO® ULTRA-CALMING®Makeup Removing Wipes. These gentle, soft wipes remove dirt, oil, and even makeup. With ACTIVE NATURALS® CALMING FEVERFEW® , an ingredient related to chamomile, these wipes leave sensitive skin feeling soothed and balanced.

Check these out at the drugstore. I think a lot of people that haven't been able to use makeup wipes because they have been too harsh are going to use these exclusively after trying them.