Bare Minerals Face Shaping V Brush, $6.50 at the Bare Minerals Outlet
I'm in love with this brush. I picked it up at the BE Outlet on the 24th of December on my yearly visit to Hagerstown Outlets. I love visiting there once a year with my mom. I have been looking for a good bronzing brush and agonizing over purchasing the Nars Ita brush for around $40. Yikes….yes its that much….OY! It's been out of stock in a few places so I decided to look around for a similar type brush.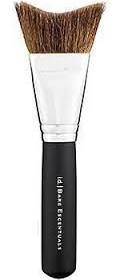 When I saw a bowl of the Face Shaping V Brushes at the outlet I almost did a cartwheel. I was excited to try something that looks rather similar for a LOT less. Now my only regret is that I didn't get two brushes. But I've already corrected that-I got another one off of Amazon. I paid $10 including shipping woo hoo!
Why am I so excited? This brush gives me the chiseled face I need. Want to look like you lost weight? Get some bronzer and contour the pounds off I say! The shape of this brush keeps me honest and on point when it comes to bronzing the heck out of my cheeks. It fits right into the hollows of my cheeks for perfect bronzer application because of the angle. Its hands down the best brush for bronzing I've ever used. Some prefer to use this with bronzer and blush both or bronzer and highlight. That can easily be achieved if you have a dual sided product pan in your stash.
But alas I favor shaving the pounds off. That's number one for this girl! I load up some bronzer (Guerlain Terracotta Bronzing Powder #8 Ebony or the Sleek Makeup Face Contour Kit) and make a fishy face and go for it. I don't do a bunch of bronzing but I do go for the center of my cheeks, around the hairline, and under my chin/neck. Ok maybe I do bronze a lot ha! I also favor using my Covergirl Queen bronzer with this brush. Consider checking that if you are looking for a good bronzer for a lot less loot!
I have a few new bronzer sets in my stash that I've purchased recently. I got the Make Up For Ever Sculpting Kit and the new Sleek Face Form set so please let me know if you'd like more info on those in a post! I love that both are at very different price points. Proof that you can get more without breaking the bank.
This brush is no longer on the BE website so I'm wondering if its discontinued. It's a winner and worth hunting down if your in the market for something like this. Just like all my other BE brushes it cleans up well and sheds minimally.
Here's a video that made me fall in love with the Nars Ita brush. I use the BE Face Shaping V Brush in the same way as she uses the Nars Ita brush.