Bare Minerals 8 Piece Get Started Kit ($61 Original Formula/$63 Matte Formula)
The other day in a YouTube haul I showed my new 8 Piece kit from Bare Minerals. I tried their system many years ago but stopped. I decided to try again. Since I have combination skin I thought that because they have a new Matte foundation formula their product might work for me. Here are a few reasons I didn't stick with their products before.
-The previously offered foundation formula did a poor job of keeping my t-zone looking decent. Midday oil slicks were bad!
-The foundation formula irritated my eyes terribly. No matter how hard I clamped my eyes shut when applying I cried all day long. I looked pretty but weepy and sad. Ha!
-It was kind of messy. The powders get everywhere. I hate having white powder piles (Mineral Veil) sitting on my counter.
-I was dissatisfied with the coverage level.
Lots of the above issues so far aren't a concern in the first few days that I've been trying this kit out. I got the wrong foundation color unfortunately. I am the Golden Dark shade as it turns out. The shade that I originally got was too red/orange for me. Golden Dark has the yellow undertone that I need. This new Matte formula is doing a much better job of keeping me matte. I'm touching up once a day with the Mineral Veil powder from the kit. My eyes aren't going nuts either. I didn't wear my contacts the first day and worried that with my contacts in I'd be in for  trouble but it's just fine so far. It's still messy. They have a click, lock, and go sifter now and it does cut down on the mess somewhat. The coverage is working for me too.
After watching the DVD that comes with the set I realized that I'm still going to use my favorite cream concealer under my eyes. But the light-medium coverage is great for the rest of my face. I really like this for everyday wear. It doesn't look like I'm wearing makeup.
I went to the Bare Essentials store to further check out the brand. The nicest associate ever helped me and did my face. If you check on the company website please look for an actual store near you. I had no idea there was one in the local mall and I'm so glad I went. I got a few things (big surprise right?) and I'll show you them later but everywhere I went afterward people complimented me on my makeup/skin. At Ulta when I went to return the wrong foundation color the girls at the register told me how great the Bare Minerals looked. Even the barista at Starbucks noticed. My skin looks good with this. It's nice and light on my face and I think for the warm weather this is gonna be what I use.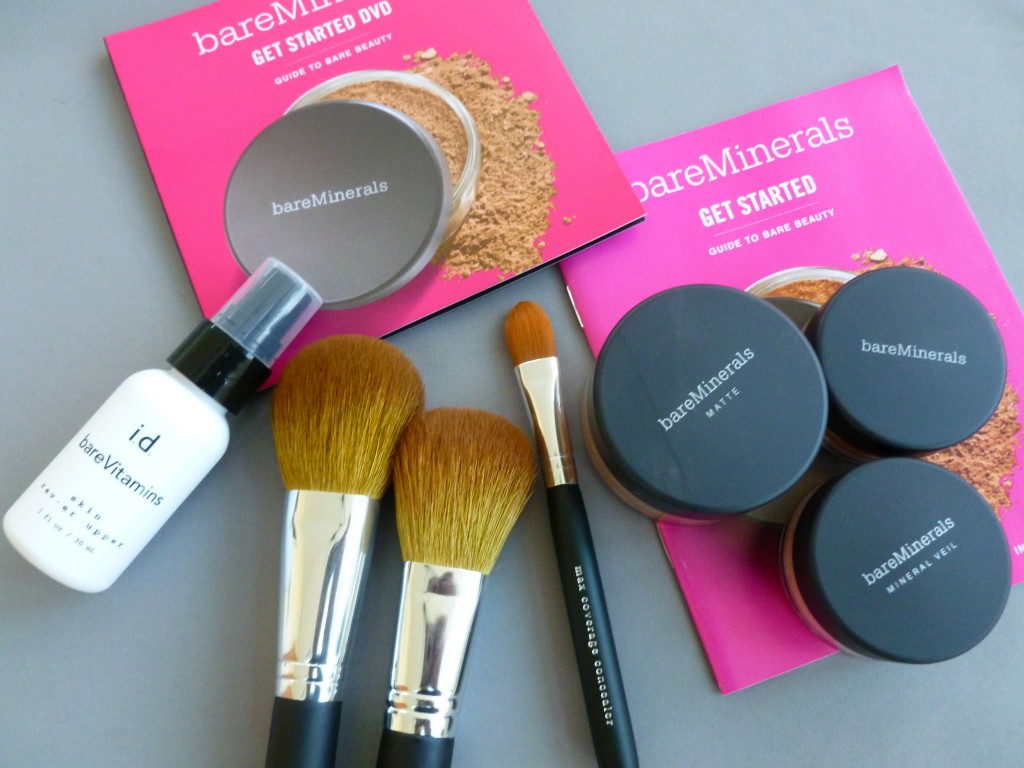 Inside the box:
-Mineral Veil (translucent setting powder)
-Warmth All Over Face Color
-3 Brushes-Full Flawless Face Brush, Flawless Application Face Brush, and Maximum Coverage Concealer Brush
-Skin Rev-er Upper
-Get Started DVD/Written Get Started Booklet
-Foundation (with this kit you pick your foundation color/formula separately and add it-either regular or matte formula
Bare Minerals Golden Dark Matte Foundation and Mineral Veil
I am going to let you guys know how things go after another several days. Let me know how you feel about Bare Minerals!