Bare Minerals Night Vision Waterproof Eyeliner Set ($29)
Eyeliner is an obsession. Even though I think I don't ask for much I've been disappointed more times than I'd like with different brands since I started wearing eyeliner in Catholic School. In grade school I didn't realize scrapping/tugging your eye with liner wasn't the norm. I got the black liner color on my skin for the desired raccoon eye affect back then any way I could and at the first sign of lines around my eyes that is what I'm blaming them on. Those $1 liners from the drugstore are not the answer. Maybe the nuns should have told us about wrinkles instead of telling us we were going to a very hot place with no makeup at all!
This holiday set includes a full size liner in Midnight (.04 oz.) and four mini liners (.02 oz's) with a handy sharpener.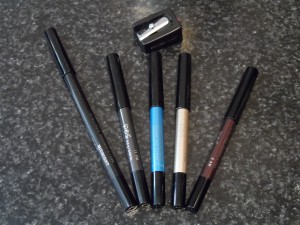 Things have changed quite a bit over the last several years and your liner should be really easy to use. It should glide across your skin and be super pigmented every time it hits your skin. It should stay put on your eye but also leave you a small window of play time to smudge and do what you'd like before it sets. Last of all the colors…they should be beautiful! Take a look…
Midnight, 11pm, 4am, 5am, and 6am (top to bottom)
Midnight is a deep rich black that doesn't have that blue or green tint that some black liners have that I hate. 11pm is a pretty charcoal gray. 4am is a unique bright blue that is going to pop in the most interesting way on the eyes. 5am is a bright champagne shade thats going to make my holiday looks extra dramatic. And last but not least 6am is purple my favorite color of all!
Using these colors alone and in different combo's I was able to determine that they are very versatile. I've been going eyeshadow-less for days because I've been smudging with one of these shades and lining with the other. These are great for quick and easy eye looks. My favorite combo's so far are Midnight w/11pm (perfect smoky eyes!) or Midnight, 5am, and 6am together. 5am (bright champagne color) wakes up my inner eye better than the shadows I usually put there. It lasts longer also. Because these are so creamy you can do a lot with them. Did I mention they have another holiday liner set called Seize the Day available also? Gotta check that out on my next visit to the counter.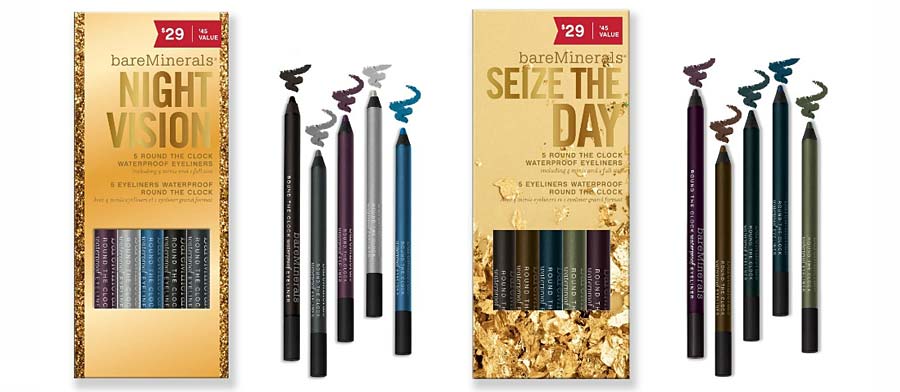 Both sets are available on the Bare Minerals/Escentuals website or at Ulta and Nordstrom.
*press sample