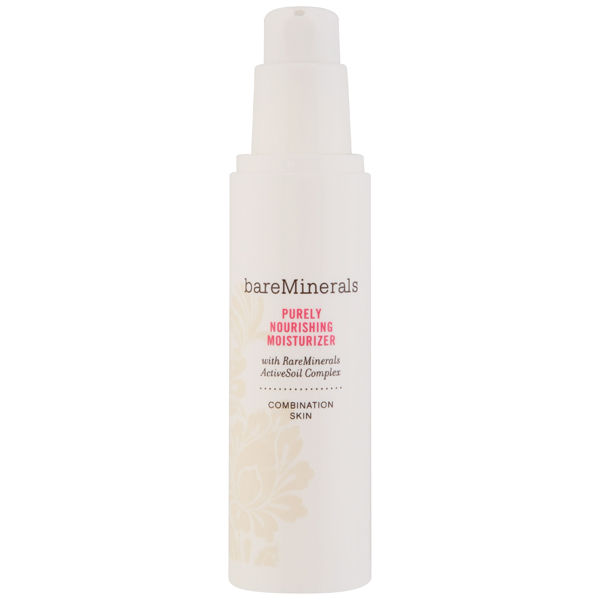 Bare Minerals Purely Nourishing Moisturizer-Combination Skin (1.7 oz./$28)
I am on my second bottle of this moisturizer. I thought it was time I told you about it!
Of course I do love it since I'm on my second bottle. It's not cheap! In the beginning the price was a huge reason that I put off trying it. What if I love it? It's going to be a costly obsession. Well I am going to be buying this moisturizer forever (surprise!!!) and I'm not that upset about it. Because the benefits of using this have far exceeded the price. This is for combination skin which I have had for all my life so it was of interest to me. For far too long I've suffered with moisturizers that made my oily t-zone oilier or completely under moisturized my dry cheeks. It's hard to find something that works for both areas of my face. But this moisturizer works for both.
It makes my cheeks/chin look just like my forehead for most of the day. It all looks NORMAL. Not an easy accomplishment.
From the Bare Escentuals website:
Hydrate skin with this lightweight, remarkably effective moisturizer for improved firmness, elasticity, radiance and skin texture. Powered by our 100% pure ActiveSoil Complex with a unique electrolyte delivery system, it's formulated to provide the perfect amount of hydration for combination skin while potent antioxidants help protect skin from environmental stressors. The result? Naturally luminous, younger-looking skin day after day.
Benefits:
Our proprietary ActiveSoil Complex represents a new generation of beneficial minerals with extraordinary skin-renewing benefits, including faster cell turnover and antioxidant defense
Clinically proven to reveal brighter, smoother, younger-looking skin, reduced appearance of fine lines and wrinkles and remarkably smaller-looking pores
Unique electrolyte delivery system optimizes your skin's ability to absorb and retain moisture, resulting in smoother, healthier-looking skin
We formulated our skincare to perform expertly with our foundation to give you a younger-looking complexion both instantly and over time
Just a side note to those out there like me that suffer with combination skin. You DO need a moisturizer. It took me forever to realize it but its the truth. Your skin needs the right kind of moisture and this is the right kind.
Let me know if you have tried this or the Normal to Dry version. Get a sample at the counter if you want to try this before you buy. I recommend giving this a test run because of the price point. But I don't think you'll be sorry if you give this a go!