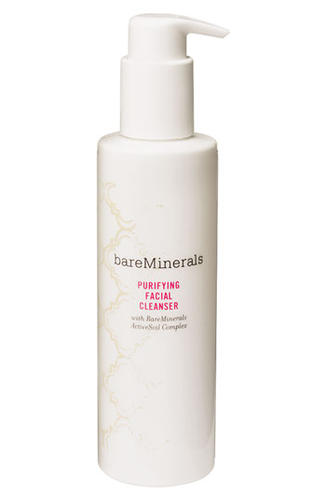 Bare Minerals Purifying Facial Cleanser (6 oz's/$20)
I love this stuff! I have tried a zillion cleansers in my time and this is one of the best! I've used this in the morning and evening for a while. I'm almost at the end of my 6 oz bottle and I'm going to need more!
If you have ever washed your face and been unhappy with how your face feels (tight and stiff) afterward you might want to try this. My face feels perfectly moisturized after I use this. Many people will find that like me you don't need much moisturizer after using this product. It leaves your skin so perfectly cleansed and balanced. I will say that for the first week I had this I was using it wrong. It says on the directions to splash your face with water then massage the cleanser in. I was skipping the water splash but that makes a big difference. Massaging this Purifying Cleanser into the skin (after a splash of water) is a pleasure. Your skin will thank you for it.
From the Bare Escentuals Website:
This gentle, purifying cleanser removes makeup, dissolves impurities and re-balances skin for a soft, smooth complexion. Powered by our 100% pure ActiveSoil Complex, this formula leaves skin feeling perfectly clean, instantly hydrated and renewed with a naturally luminous glow. Plus, it's gentle enough for eye makeup removal.
I need a vat of this stuff. You know a 40 oz. bottle will do. I have never had my skin feel so cleansed and even moisturized after use. As a long time user and lover of products like Cetaphil I must say this is up on a higher level. This cleanser looks just like Cetaphil but has a huge bonus cleansing effect. I always wished I could use something gentle but effective to clean the makeup off my face and now I have it!
More info from the BE website:
Benefits:
Our proprietary ActiveSoil Complex represents a new generation of beneficial minerals with extraordinary skin-renewing benefits, including faster cell turnover and antioxidant defense
Clinically proven to reveal brighter, smoother, younger-looking skin, reduced appearance of fine lines and wrinkles and remarkably smaller-looking pores
Unique electrolyte delivery system optimizes your skin's ability to absorb and retain moisture, resulting in smoother, healthier-looking skin
We formulated our skincare to perform expertly with our foundation to give you a younger-looking complexion both instantly and over time
I think if you aren't happy with your every day cleanser and you want to try something really good you need to pick this up or get a sample! I think you will be glad that you did. I love this stuff.