Bath & Body Works 3 Wick Candles, 2 for $22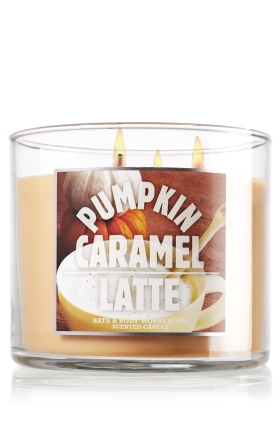 I love candles. I don't get candles seasonally (I get my candles at Walmart usually) but this year I did for the first time.
I get an email from Bath & Body Works daily (I am not thrilled about this) and I resisted for a while and then I ran out of anti bacterial hand soap. I purchased a LOT of hand soap at the end of last year at 75% off from them and its lasted a long while but now I'm running out. So I went on the website. That was my first mistake.
Did I mention that my husband loves Fall? Well I showed him some of the candles available on the BB&W website and before I knew it we had 8 of the sale candles in our cart and I visited Retail Me Not's website to get a 20% off coupon for the order. We didn't agree with each others choices….he insisted I order some candles called Autumn and Leaves. I am wondering how the heck that smells? Better not be wet leaves or anything strange for $11 each! We shall see. I got the pumpkin scents and yummy sounding ones like Cider Donut and Marshmallow Fireside. We have a lot of candles coming and I gotta say I'm excited!
Did you see this sale? Let me know if you caved. If not bless you.
P.S.-I'm not sure how long this sale is going to last. It's still up on the website as of today.