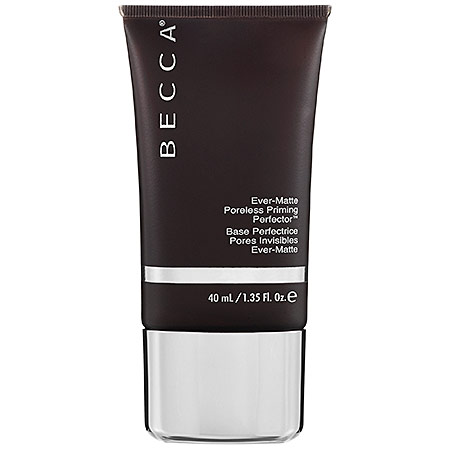 Becca Ever-Matte Poreless Priming Perfector, 1.35 oz./$36 Sephora
I have a t-zone that took to this in a very serious way. Combination/oily skin sucks. This will help!
From Sephora.com:
A targeted oil-control primer that perfects and minimizes pores for mattified skin that lasts up to eight hours.
What it does:
Go beyond extending makeup wear to address the root cause of why your makeup moves. This formula specifically targets oil-prone areas and acts as liquid blotting paper to leave your skin fresh and matte all day. Use alone, before, or after foundation to control excess oil, while minimizing the appearance of pores. Feel free to use throughout the day to touch up areas of concern.
What else you need to know:
This product eliminates excess oil for long-lasting matte skin. The formula is sweat-and humidity-resistant and free of silicone, oil, alcohol, and fragrance.
After using this for a few weeks I can co-sign on almost all of the claims. I don't have many issues with my pores so I can't verify that this minimizes them. But does it help my skin stay matte? It does. Unbelievably matte! I love that this is silicone free for my girls that can't use a lot of the primers out there that contain silicone. This feels a little different from the primers I've used in the past because its instantly mattifying as you smooth it in. It doesn't leave an ashy film behind either which is very nice.
I took a quick pic of the primer itself and then smoothed it into my skin on the far right of my hand. You can see hopefully that it really makes my skin matte. I put a decent amount of lotion on my hand. Sorry my hand is stained to the left. That was a very pigmented lip color swatch I did yesterday ha!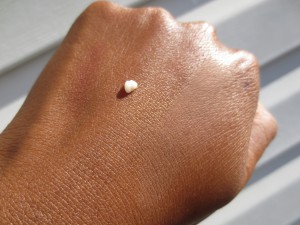 This can be used alone, before applying foundation/powder, or later in the day after you get a little glisten on. I love that. I have tried it every which way but one of the best things is that you can tap this on your face after a few hours and it doesn't disturb your makeup at all. There also isn't any oil, alcohol, or fragrance so they've eliminated a lot of the things that are an issue for a lot of people. Becca is available at Sephora (online also!) please check this primer out. I don't know about you but its getting HOT where I live. I am depending on face primer heavily.
And are you ready for the most stunning info of all? You can even use it as an eye primer if you have oily eyelids! BAM….