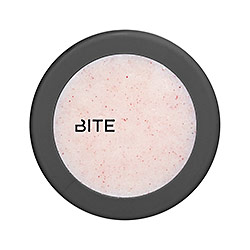 Have you seen this new moisturizing butter from Bite beauty? Besides moisturizing your lips and skin really well, there is fruit in there! All the little dots you see are pieces of fruit. Actually they are superfruits! Interesting huh? These superfruits protect and nourish your skin. I really like this natural approach, there are no parabens, sulfates, or synthetic dyes and fragrances either.
There are a few butters from Bite to choose from Acai, Blueberry, Cranberry, and Pomegranate. In addition to moisturizing your body and lips this butter can be used on your cuticles which is ideal for me. My cuticles are always so dry. I am always carrying around some type of cream or oil to help my dry and at times crusty cuticles! That's more than you needed to know right?
I love getting multiple uses from one product but for $18 this .23 oz butter is still kind of pricey. I'm going to have to check this out in person at my local Sephora. I'll let you know if I end up getting it.
Have you gotten any products from Bite yet? Do tell!