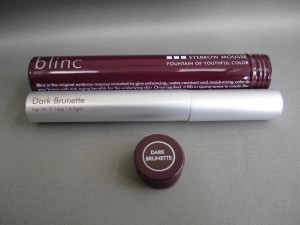 Here is another IMATS purchase that I have already fallen in love with. Blinc is a company that I haven't tried anything from before. I picked up this Dark Brunette shade for my dark, almost black brows. This tube comes with a nice wand applicator (just like a mascara wand) and it's so easy to use!
All you have to do is lightly sweep the wand across your brows and like magic it fills them in! If you sweep it just a few times it looks great, if you want your brows to appear darker you can do it a few more times. I don't recommend this unless you want to look a little crazy… One day I got a little to crazy with the wand and I ended up looking like I had very cartoonish brows:)
This formula is water proof so your just applied brows don't budge. You don't have to worry about it fading or smudging. Trust me I worked out and my brows didn't budge! And the way it fills in my (in some places) non existent brows is kind of amazing. Removing this from your eyebrows is simple, you just need a makeup remover. I tried a few different kinds and they all worked so this isn't hard to get off.
This comes in a few shades from light blonde to black. So they have a shade for you. I got this for $12 at IMATS, on www.blincinc.com it's GULP $48. Oh my….it's good stuff. But I am so glad I got it for $12!
Rated A
Disclosure: I purchased this item myself!