Mac Pleasure Bomb Lipstick, $16.50 at Mac Cosmetics
Limited edition goodness in small quantities makes me sick. This beautiful lip color from the Riri Hearts Mac Holiday collection was one of those things. It sold out so quick that I know that some that wanted it didn't get it. Grrrrrrr. I am going to show it to you anyway since so many people asked but trust me I hope part of the plan in 2014 for Mac is BETTER PLANNING.
This matte fuchsia is gorgeous. I love it. It isn't super unique though so if you missed it there are some similar colors from Mac you might have that are just like it. The only thing you will miss is the matte finish which if I'm honest isn't all that. Shades like Mac Lickable, Girl About Town, Impassioned, Moxie, and All Fired Up. Wait All Fired Up is a matte also. From the retro matte collection that came out recently. I have that one and its great! So is Flat Out Fabulous. I posted on that one a while back.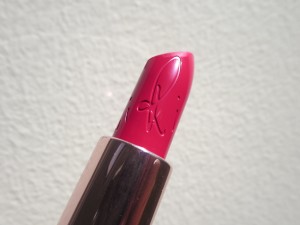 I do love this shade. It's bright and beautiful and crazy pretty on. I just wish they'd make more! This has nothing to do with the Mac Riri collection but on a recent visit to a CCO (Cosmetic Company Outlet/Store) store I saw so many products from last years Marilyn Monroe collection. I couldn't believe it. I love that things like this are available at a discount instead of full price but darn it! It makes the whole instant sell out thing seem strange and suspect.
I'm hoping some Riri stuff turns up at a CCO near me. I missed out on two shades. The Riri Fall collection Nude lipstick shade and Bad Girl Riri lipstick from the Holiday Collection. Oh well maybe they will show up someday or be released again. In case you aren't familiar with the CCO it's where you can get Estee Lauder brands like Mac, Smashbox, Bobbi Brown etc. at a discount. If you'd like to see if there is one near you here is the link to check: http://www.mallseeker.com/cosmeticscompanystore.aspx . A new one opened up near me and I haven't checked it out yet but I will!
Did you pick Pleasure Bomb up or did you miss it? Do tell.