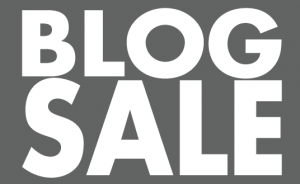 The blog sale is coming on Sunday and I hope some of you can make it! Here's the link to the rules so your prepared and can get your order in as early as possible!
I got a comment on my original blog sale post in this morning and I have to tell you it pissed me off. I don't ever compliment myself guys but I can tell you very honestly that no one tries to be more fair than I do when it comes to giving back. I try my hardest to share products (through giveaways) and anything else I can. I spend a few hours most days answering personal email requests for makeup help/advice and replying to comments on the over 300 videos that I have on YouTube. But there is one thing I can't do. It's pay for things that I shouldn't have to and sacrifice money that could be better spend on things that will help this blog.
So if your International and you can't participate in blog sales I'm sorry. Very sorry. So many of you have written me and asked why you can't join in on the blog sales in such a polite and open way and I've been glad to tell you whats gone on behind the scenes. But I want to tell those that haven't written me personally why.
Here's the question I got this morning:
Why do you accept subscribers and followers worldwide but u don't offer blog sales worldwide
Here's my answer:
Why do I accept subscribers and followers worldwide? Because I appreciate any support from any beauty lover no matter where they live. I do so many international giveaways that I spent $400 in shipping last year getting prize winners the items they won in giveaways. Ever sent prizes to Russia, Saudi Arabia, Africa, Australia, or Sri Lanka? It costs $25-$30 to send most of the international prizes unless they are going to Canada. International shipping is something that just doesn't work out blog sale wise because I've tried it a number of times with my first few sales. I've had people refuse to pay the correct shipping amount because it ended up being $20 in shipping for their country. Thats after the blog sale is over. It's happened over 10 times and some insisted that I pay the shipping difference or else they wanted to cancel their order. I've also had another 7 orders that the recipient claimed never reached them because for some countries you cant get the proper tracking verification. In good faith I returned their money because it's the right thing to do but it doesn't do me any good to return over $200 for products that I'm not positive didn't make it to the owner.
Sometimes when someone does something they have a really good reason. I really take offense to your comment because I don't know anyone that spends as much each year on giveaways/shipping as I do in appreciation to the people that are kind enough to stop by. So I accept anyone that comes by gladly but I'm unable to lose money for no reason at all. Because guess what money I use to purchase items for blog giveaways? BLOG SALE MONEY.
Again I am sorry that I only let the readers in the US and Canada buy items but now you know the reason why. Hopefully I'll be able to have some great giveaways so in some small way I can show my international readers appreciation for the rest of the year. Thats what I'm hoping at least!