This gloss is from the Neon's and Nudes Collection. I love Bobbi's glosses but I was disappointed in this one. Its called Cosmic Pink and its kind of a weak pink. Its pretty in the tube though…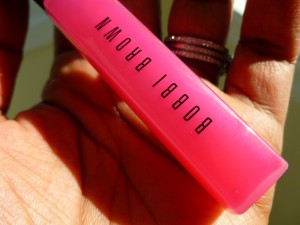 I think this would be a great fit for someone that wasn't into bright bold color like I am. To be fair Cosmic Pink ($23) is described as a sheer pink gloss so I got exactly what they advertised BUT when you look at the picture above don't you think the sheer version of that would still have some color? Ok maybe that's just my messed up thought process. Anyway its really sheer on the lips alright.
Lesson learned, I still am glad to keep it though. It's as moisturizing as anything that I own and I love that.
Rated B-