Burberry Pink Sweet Pea, $27
I love this shade. The first time I saw it on the Nordstrom website I sighed a little. I like Burberry glosses but the vibrant gloss shades are few and far between. Last year they came out with a gloss called Hibiscus that I love so they do have me in mind a few times a year. They are crazy enough to come out with something that has "hey crystal" written in invisible letters above their promotional pics. Yes I'm just crazy enough to believe that! Let me show you Pink Sweet Pea before you worry I need to be committed to a facility….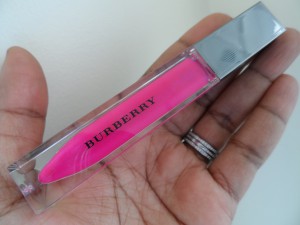 See what I mean? GORGEOUS. It's a bright fuchsia. Pink is my second greatest weakness after red. Often it's my first greatest weakness but anyway here it is on the lips!
I must say that this is not one of those glosses that I can put on without a mirror. I had to use three dips (doe foot applicator) to cover my lips and get the color even. With pigmented lips like mine it might be a good move to use some concealer first to make this color go on more opaque. But I'm always slapping on colors so the times I'll end up doing that are going to be few and far between. So far as I know this is a limited edition so pick this up online or at your Burberry counter. It lasts the average four hours but wears off with drinks and after eating but I love it:)