This Lip Crayon really surprised me. It's a matte shade on the lips and the color! I swatched this shade in a haul video after getting Redwood Forest from Ulta. I was thinking I was getting a really red lip color. It's not the super red shade that I thought it would be. It's a really nice color though. It's a more sophisticated shade of red.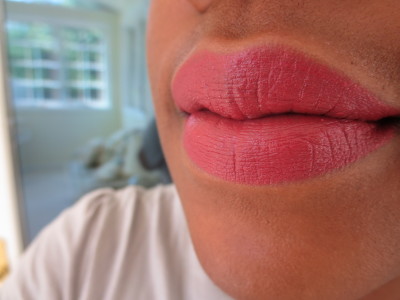 So darn pretty. It's a lot more opaque than a lot of the balm sticks out there and if you like a lot of shine this might not be a great fit for you. It's a creamy matte formula I'd say. It looks more like a lipstick on the lips than any of the balms I've used out there which is kind of amazing. At $9 this is reasonably priced and in many ways this is a steal if you are looking for long wearing lip color at a decent price.
There are a few other lip crayon shades available. I think I might check out Napa Vinyard because for Fall I want to try some deeper shades. Since these stay put for hours on the lips I am thinking a darker shade will be a perfect stay put color for me. I get about five hours of wear using Redwood Forest and it lasts through meals and drinks like a dream. There isn't a smell or taste with this formula either. Check these out at your local drugstore or Ulta if you want a longer lasting lip color in balm form.