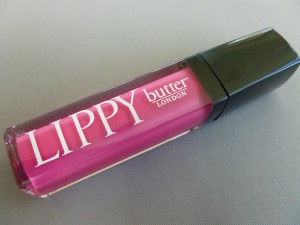 I can't remember when I had more problems with a lip product. This new gloss from Butter London is so hard to work with I can't even publish/post the pictures of me wearing it because it looks horrible. This is such a sticky hard to work with opaque gloss that it's going back to Ulta on the first thing smokin!
I tried several different ways to make this work. All of them failed. I love the bright pink color but I hate the super sticky texture and the fact that it's impossible to keep the pink color consistant across my lips. That's why there are no pictures. You can literally see different levels of pink color. Not an all over finish of pink if that makes sense. I erased my lips (with concealer) but not even that helped the situation. No lip balm or with lip balm, it didn't matter. The least I expect from a gloss is a consistant color throughout regardless of color and texture and I couldn't achieve that. To coat my lips it took three dips of the doe foot wand applicator but even then I had to WERK to get the gloss to look even. I tried with less and I tried with more. Still it wasn't any better. I tried a lip brush still no good.
With my best efforts…I still wouldn't leave my house in this. After two hours the color is spotty in the center of my mouth and patent leather glossy around the sides of my mouth. Yikes….serious texture issues.
At $17 a tube it's going back. I love the shade and packaging but I don't have time to "babysit" and work on a gloss like it's a science project. I love your nail polishes Butter London but I will skip your gloss with regrets! I understand that this might be a great fit for some but if you want to try this keep your receipt in case it doesn't work for you.
Rated F