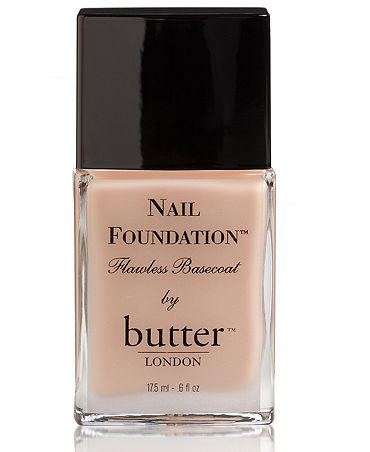 Butter London Nail Foundation, $19
It took me a while to wrap my head around spending almost $20 for a base coat but I must say this is GOOD STUFF. For many years I skipped using a base coat but now that I see the benefits I don't plan to stop using it anytime soon. This product from Butter London has many really notable good points. As a base coat it works really well. It has a matte finish and dries super fast.
One of the things that is an added benefit is that because it dries so fast if you are in a rush you can use this on your nails (one coat) for a super quick manicure. After one coat of Nail Foundation you can apply your favorite top coat and be out the door in record time with pretty neutral looking nails. I've done this more than once and it looks great. From here on out this is going to be part of my quick but decent looking nails routine.
In your stash do some of your favorite nail colors take a few layers to become opaque? I know some favorites of mine do. After using Nail Foundation I can put on some of my favorite colors without getting that ugly see through unfinished look. This basically makes my job easier and gets me out the door faster with nice looking nails. I can skip a second coat of color in many cases. One coat of color does the job. I love that!
Here is the product description from the butterlondon.com:
Make up for your nails. This silk-finish, stain resistant, non-toxic base coat nail lacquer provides the perfect foundation for butter LONDON 3 Free Lacquer. Matte results so beautiful, you can wear it alone. Our base coat hides and smoothes tiny ridges and imperfections in the nail. It is like cover-up, or foundation make-up for the nail.
It leaves a silky, matte finish when used alone. This makes it an excellent product for MEN who want an invisible, but immaculate manicure. When used as base coat, it provides a beautiful, smooth surface on which to paint. This will give a wonderful result to the look of your nail lacquer.
I recommend giving this a try if all the benefits seem like a good fit for your needs. It's a nice size bottle, it's .6 fl oz's so I don't feel like I'm going to use it up too quickly. So far it's better to me than the other base coats I've used in the last ten months or so.
Please let me know if you've tried it. I'd love to know your thoughts! You can pick this up at Nordstrom or Ulta.