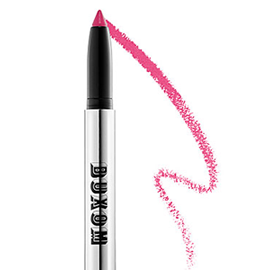 When I was at the Bare Minerals outlet with my mom in December I saw a lot of tempting things but I couldn't help but be interested in trying out a Buxom Full-On Lipstick for the first time. And once I saw the bright magenta stunner Monte Carlo it was over! I had to get it. I zoned in on this bright shade and instantly thought my precious….
These are slim matte lipsticks with a bit of a tingle! Did I mention the color yet…oh wait I did! It's fuchsia magenta goodness!
Here is more info from the Bare Minerals website:
Color: Monte Carlo 
Description: Magenta
Coverage: Full
Shine: Matte
What it is:
A tingling, three-in-one lip perfector that works overtime.
What it does:
This hard-working lipstick holds down three full-time jobs. It defines lips like a liner, fills them in with creamy, velvet-matte color and helps to deliver major hydration with Vitamins A, C & E. On top of it all, it has a refreshing tingling sensation for a sexy, pout-plumping effect.
Get all 20 shades exclusively at Sephora
So when I put this on I didn't know what to expect. It's really neat because you can line your lips perfectly and fill them in quickly. The matte finish is what I was hoping wouldn't be a problem. I was hoping this wasn't going to try out my lips! I hate that feeling when you wear a matte product and your lips seem to shrivel and prune up from dryness and junk. Ugh that is not a good look! Thank goodness that wasn't a problem. This review would have really gone down the hill if this lipstick gave me cracked dry lips.
Monte Carlo tingles. If your not a fan of products that tingle and plump don't go near this! I feel the tingle on my lips for quite a while. It's not uncomfortable or anything but maybe I'm used to it because I love Buxom and Bare Minerals Moxie glosses. There isn't an odd taste but if you lick your lips you might feel a little tingle on your tongue. There is a nice light almost sweet vanilla like smell when I open up my tube.
As far as plumping I don't know what to tell you. How much plumper can my lips get?! The great thing is that because this is a matte lipstick it stays put on the lips really well. I love that. I mean you aren't going to have to touch this up unless you eat a nice greasy cheesesteak sub or something! Gosh I'm hungry….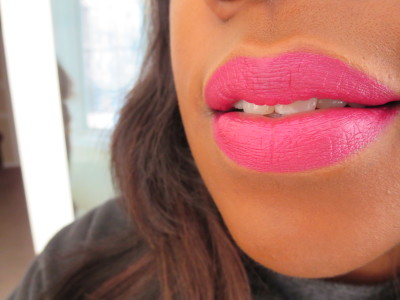 Anywho my lips feel really moist despite the matte finish. When I press them together they feel hydrated and good! This is a matte lip product I can get behind. I recommend this and would love to pick up another shade. These are at Sephora for $19 and since it's been a few months I forget how much I paid for Monte Carlo at the Bare Minerals outlet. I think I got a good deal on it. I should have looked for more colors darn it!
Check these Full-On Lipsticks if you have a Sephora near you! Monte Carlo is long wearing and beautiful on. Let me know if you have tried one of these already. I'd love to know what you think about them. There are twenty colors so there are quite a few I'd be willing to pick up starting with the red!