I am really into packaging just in case you haven't noticed. I like good packaging and I feel like it's not too much to ask to have something be durable and kind of cute when it comes to makeup. Cargo has great packaging and it screams neat and orderly so I like it. I have wanted to try some blush from Cargo for a while. I thought this group of colors covers all the bases as far as what I might need any given day so I really got some use out of all of these colors.
These blushes were long wearing and really natural looking on. Besides being buildable and highly pigmented I really think the texture on these was very unique. You can see in my finger swatches how opaque the color is. What that meant on my cheeks was a very pigmented rich flush of color. Something I haven't seen from many other brands.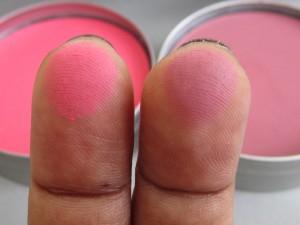 Key Largo (left) and Lyon (right) Blush
Key Largo- described as a tropical punch shade. I love my hot pinks so I had a lot of fun with this color. This gave me a really nice healthy glow.
Lyon- described as a muted earthy rose. I really got into this one. It looks so natural on. It's the most wearable color out of the four shades.
Amalfi (left) and Laguna (right) Blush
Amalfi- described as a bubblegum pink. So cute. I could look at this all day. It's a little frosty on me but you'd have to pry it from my cold dead hand to get it away from me. I put it a little higher on my cheek and use that frostiness to my advantage as a highlighter.
Laguna- described as a warm peach shade. So amazingly perfect on my skin tone. It's a favorite of the magnificent Sam Fine who is my favorite makeup artist ever. And after using it the first time I totally understood. If you are a Mac NW45 or so like me try this!
Overall I love my little Cargo collection of blush tins. These retail for $26 each.
Rated A
Disclosure: This product was provided by the manufacturer for review.