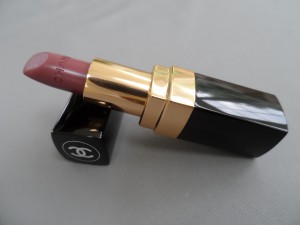 I love this color. Besides looking great the moisture level in this Rouge Coco makes me hella happy! Does anyone even say that anymore? I didn't think so. Sorry. Let me start again. I love this color and its something I saw in pictures weeks ago and I knew I'd have to pick up. It is a pretty pink shade with a purple spin on it. I got it last week at Neiman's (Kathy Shoreman is the best: 703-761-1600 ext. 3282) and I didn't even wait to get home. I slipped some on in the car. It was love.
I have a small number of Chanel lipsticks and they all are good but this one is way more moisturizing. I have some Coco Shines and Rouge Allures but they are like sandpaper compared to this formula. I need more of these. The odd thing is my favorite shade ever Taffetas Rose #16 isn't as moisturizing and it's a Rouge Coco. Maybe that's because there is some shimmer in the shade? I mentioned Taffetas Rose in my last YouTube video. It looks good on anyone. I've seen people of every skin tone wear it and it looks fabulous. Anyway Culte feels like a Lip Butter on my lips! I got on the Chanel website and here is how they describe the Rouge Coco's:
New lightweight lip colour glides on for easy application, and features a Hydratendre complex to help soften, soothe and condition lips – even boosting their ability to hold in moisture – for a plumper, smoother and healthier-looking appearance. A range of wearable shades with full-coverage finishes, from matte to pearl to soft shimmer.
I will cosign on all of that! Here are some pictures of Culte on my lips! It's an overcast day so I'm working with the lack of sun:(
At $32.50 each Rouge Coco's aren't cheap. But I am going to really use this one because it's a great everyday color. It has instantly made it into my handbag. It's a great slap on and go color! I can put on some mascara, slap on some Culte, and put on my sunglasses and GO.
Check it out at the Chanel counter. I think this is another shade that will work for many skin tones. If you are a fair skinned beauty check it out on Cafe Makeup here to see how it will look on you!