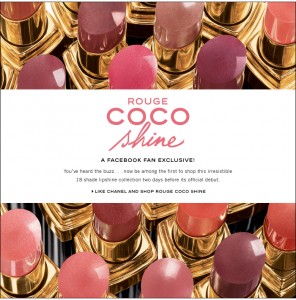 Like Rouge Coco Shine on Facebook and Get Free shipping!
Chanel's Rouge Coco Shine lipstick is coming out this week. I was able to see the lipstick shades available over the weekend and I pre ordered one for myself. I have to pick it up on April 6th. I loved a few of the colors but thought #61 Bonheur was just right for me. Bonheur is described as a luminous and coppery violet plum. I'll definitely share my thoughts with you this week after I use it. There are 18 beautiful colors to choose from.
After trying and swatching quite a few of the shades I think the formula is similar to YSL Rouge Volupte Pearl! I'll only know if they are as great as that after wearing it for a full day. I really hope it's as great as YSL, I love their formula. YSL lipsticks are a pleasure to wear and reapply. I can't get enough of them.
I got an email today from Chanel about the new lipsticks. If you like Rouge Coco Shine on Facebook you can shop for a shade you might like and get it shipped to you for free. This offer is good for the next two days. The shades are beautiful but a whopping $32 a piece! Pick a shade carefully:) I know I did!