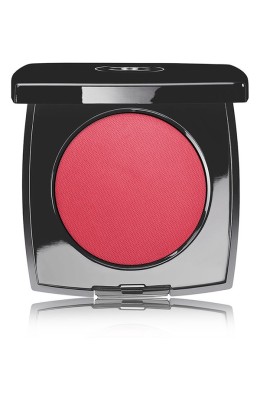 Chanel Chamade #67 Le Blush Creme, $38
I love cream blush. I need it most of all in the Summer but in the Winter I have dry cheeks so it works for me then as well. I find that blush can disappear on me during the day so a nice creamy blush not only helps me look a little more alive but it also helps me look less like the walking dead come 1pm. Have you ever looked in the mirror and thought who is that girl? The one with the monotone face and shiny nose? Ummm yeah. I know her and I am her if my blush isn't on point any given day.
Que the Chanel solution it's Chamade blush. She's bright and she's beautiful and her deep pigmentation will break your freaking heart!
This is my second Chanel cream blush. I love the first one I picked up Fantastic it's more on the plummy side. I These blushes stay put on the skin and blend in easily with a brush or fingers. I usually use two fingers to tap them into my cheeks and blend. You need very little product since the pigmentation is so good. This is a purchase that will last a long time for most folks. The price tag is steep so I get colors I know I'll be in love with for years. I like colors that make it look like you are "lit" from within. This is one of those!
From the Nordstrom website:
An innovative powder-cream formula offers an enticing new way to blush with sheer yet vibrant pigments for instant luminosity. The silky texture offers a long-wear satin finish—soft and comfortable for every skin type—and is simple to apply with fingertips or brush.
Here are some quick hand swatches so you can see the pigmentation-it's off the chain!
Ok here comes a quick cheek swatch. Now I'm wearing a little of my favorite Iman BB Creme-Earth Medium but look at the color on my cheeks! I went a little heavy with Chamade. The nice thing is that you can tone it down with your favorite pressed powder but these cheeks are poppin!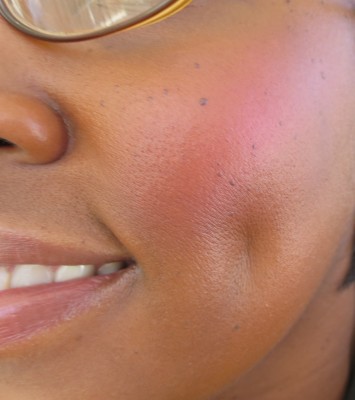 Ahhh the older I get the bigger my dimple gets! But see the color? It's a pretty flush of color on the cheeks! That's the end of my story. Nuff said….I love Chamade!