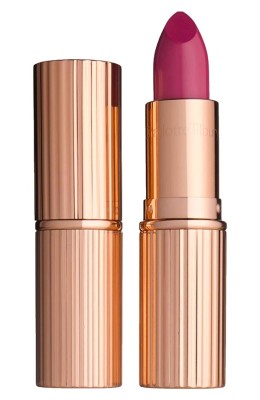 I picked up a few Charlotte Tilbury lipsticks online from Nordstrom. At $32 I was hoping they would be amazing…and they are! I picked an everyday use shade called Stoned Rose and a brighter fuchsia called Velvet Underground. I love both! The lipstick formula is somewhat thicker and moisturizing. I like that because the color stays put on my lips and my lips don't feel dry at all throughout the day. I can do minimal touch ups which is key and if these were cheaper I'd have quite a few more shades already. I ended up touching up once a day.
Oh and the packaging is gorgeous. It reminds me of old Hollywood. This is an amazing gift to give yourself. Splurge worthy for sure!
Take a look at Stoned Rose. I read that this is Rachel Zoe's favorite…I think that is funny considering we couldn't look more different. But I love this one. Perfect everyday nude for me!
I know you didn't need to see three pics but darn it I love this color!!!! And for the more adventurous types check out Velvet Underground.
Love Charlotte Tilbury lipsticks, it's official. Maybe this Spring I'll get a few more. These are great luxury lipsticks. They are right up there with Tom Ford and Chanel in my book. And I love the packaging…..