This is a stunner. When I saw it in the department store display I was hypnotized. It's a Nordstrom exclusive for $18 from the Enchanted Summer Collection from Clarins. I have no idea why it's called a balm. It's a lip gloss to me! Oh and it tastes YUMMY. Hold your tongue back. I personally could make a meal out of this.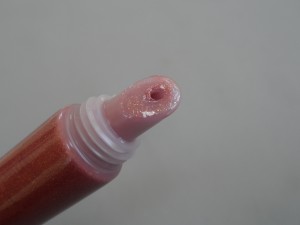 Nude Delhi Lip Balm (.5 oz./$18)
The color is beautiful and the formula is as moisturizing as can be. This is a tad bit sticky but for this kind of color who cares? I get a good 3-4 hrs of wear and touching up is a pleasure after meals and drinks. Check this out in Nordstrom in store or online before its gone. I think its limited edition and if the pics are speaking to you snap it up ASAP!
I am in the home stretch of my lipstick/lip gloss catch up mission. I can see the bottom of my "to review" drawer so I'll be caught up soon. Hope your enjoying all the colors. I have been using them since I got them and its about time I shared them with you.