Clarins Vibrant Rose Gloss Prodige, $22 (Nordstrom)
I am all kinds of crazy about Clarins Gloss Prodige line. I have three shades and I love them. I posted on several shades last March. I have Blackberry, Raspberry, and Chocolate. I even included these in my Best High End Products of 2012 YouTube video. They are that amazing. Well despite the $2 price increase I picked up another shade that is limited edition. It's called Vibrant Rose and its a sparkle-fest. It's got so much shimmer in it. It's blinding…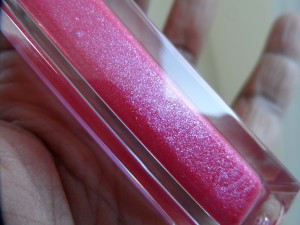 These glosses smell great (kind of like fruity) and the color payoff is just gorgeous. The three that I purchased last year are very solid but still normal shades. This is a glossy show stopper though. It's the bedazzled version of a normal lip gloss! My camera has trouble keeping up with the shimmer. But here is what I was able to capture.
I gotta tell you everywhere I went with this on people asked what it was. It's dazzling. I keep slapping it on when I'm wearing minimal makeup because it makes me look fancy. It's not fun to take off though. The formula has a zillion shimmer specks but thank goodness you can't feel them on your lips while wearing this. Thats a big deal to me. I don't want to feel the shimmer….EVER. Also when drinking and eating the shimmer leaves a trail. Yikes. So I'd advise if shimmer isn't your thing stick with another color in the Gloss Prodige line. The other shades I've got have a nice smooth less eye-catching but still beautiful finish that will appeal more to most.
If you'd like to see how it looks on I wore it in a recent YouTube drugstore haul video. Check it out if you dare. You will fall a little bit in love with it I think. I got a ton of messages about the gloss after I posted the video. You can't see the shimmer much which is interesting. It just looks like a pretty lip color. Make sure your watching it in HD.