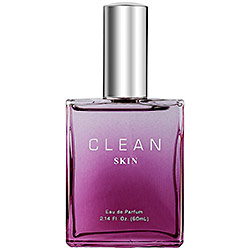 I'm a big fan of Clean fragrances. I have seven of them! They are addictive because they are so fresh and light and never overpowering. I highly recommend them if you like smelling like you just stepped out of the shower. That's the best way that I can describe the scents that I have so far. They are perfect for summer and that's when I use them the most. Who doesn't want to smell like they just took a shower on a 95 degree day? And you can't overdo these. In fact if there is someone in your life that overdoses on heavy perfume get them a Clean fragrance. There will be an improvement trust me!
Here are some details on Skin from the Sephora website, it's $69 for 2.14 oz.:
This fragrance captures the delicate scent of bare skin. Hints of dewy flower petals wrap around notes of pure creaminess and warm musk to evoke the simple scent of touchable skin. Enticing, fresh, pure. Clean skin at its best.
Notes:
Sheer Honeydew, Lotus Blossom, Fresh Air Accord, Dewy Petals, Aquatic Notes, Blue Rose, White Musks, Amber Wood, Creamy Vanilla.
Style:
Enticing. Fresh. Pure.
I am going to have to look out for this and get a whiff! It sounds right up my alley:)