I've never really put mascara on my bottom lashes. I always end up looking like a racoon. Not a cute racoon either, more like the sickly kind. The mascara always ends up under my eyes within minutes. I figured this out in high school and I gave up on mascara on my bottom lashes back then. I have always admired those girls that manage to use a regular mascara for their top lashes and bottom ones. The mascara brushes that I like best are long and thick which is great for your top lashes. Not so easy for me at least to maneuver on my bottom lashes. So when I saw this mascara by Clinique I thought maybe this might be worth a try. I found out the brush is smaller, and it's $10. I was ready to try again. I knew the mascara wand was going to be small but when I saw it I was surprised by how small.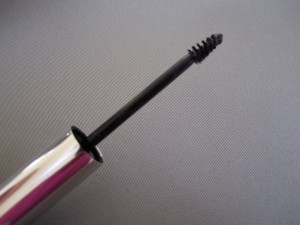 After using it the first time, I loved it. It gave me something that I was missing before with larger mascara wands. Control. It was easier for me to control the wand and with a light touch I was able to create a really nice look. Not spidery at all which is what I always fear. I hate that overpowering spidery lash look. Doesn't work for me especially on the bottom lashes. I really love this mascara though. After using it for a few weeks it's become a staple in my makeup routine! I'd definitely give this a thumbs up! Here's a look at my lower lash situation before the Clinique mascara and then after. Hope that helps!
Rated A
Disclosure: I purchased this item myself!