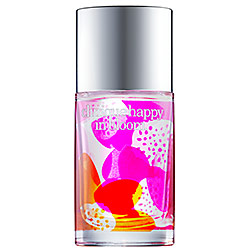 1 oz. $32 at Sephora
I love ALL of the versions of Clinique's fragrance Happy. I have the original Happy. It's a nice blend of orange and flowery goodness. I also have Happy Heart. It's still really flowery but a little more earthy and slightly woodsy and fresh.
But I am missing this one, In Bloom. What a beautiful bottle. I am tempted. Very tempted. It's limited edition too. In Bloom's top notes are plum and various fruit scents with some lily of the valley. Sounds yummy.
I'm going to have to drop into my Macy's to smell this! Do you have any of the Clinique Happy scents?