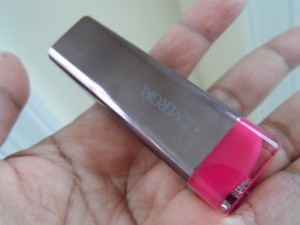 Covergirl LipPerfection Spellbound #325 Lipstick
I picked this color up recently after swatching it and passing on it a few times at the drugstore. For under $10 I should have picked it up long ago but I waited. I love the LipPerfection formula and I have a few beautiful shades from the line of endless beautiful colors Covergirl has given us. I don't know about Covergirl's claims that after seven days your lips are softer but I can tell you that at the end of the day my lips look and feel good. That's enough for me.
I'm going through a fuchsia phase. Meaning I want every fuchsia I come across. Let me show you how Spellbound looks on the lips! Sorry but I took these pics on a rainy day. I hope that they are ok. This color POPS!
There is a downside to this beautiful color. I discovered it the first night I wore this shade. It stains the HELL out of your lips. I mean I was using remover and I swear the color on my lips got stronger as I swiped at it with my cotton ball. I mean this color stays with you for a while after it's removed. It's ALIVE. I will still rock this shade but I wanted you to know that it lingers.
The beautiful ones, they hurt you every time…..
I love Prince so I couldn't help but use a line from him. Anywho check this out at the drugstore if you love fuchsia and you have a good makeup remover! This color is beautiful.