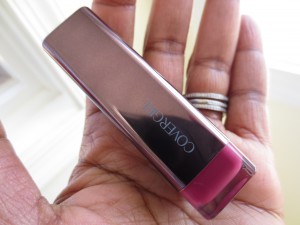 Covergirl Smitten #310 Lipstick
I've been using this pretty plummy shade from Covergirl for a while but never posted on it. I am not as taken with as many Covergirl lippies as I am the Maybelline Colorsensationals but I have a few that I love. I love a deal and these are under $10 at the drugstore which is huge. I just wish they came out with additional colors regularly like Maybelline. I hate that they are limited edition but regardless some of my favorite shades aren't from the regular line.
Take a look at Smitten!
I love Smitten on the lips. It's pinky-purple goodness! It's not as "look at me" as my favorites the super red Hot and pretty fuchsia Spellbound but more wearable. Other favorites include Burn and the surprisingly beautiful Tempt. If your looking for a neutral don't count out the Queen collection from Covergirl. My favorite everyday shade is Mocha Locha. They are all gorgeous but with the brights be careful. They stain!
Take a look at this beautiful shade next time you are at the drugstore. There are always BOGO deals on Covergirl, consider getting this along with a bright shade if you don't have one yet!