I love deals! Thanks to one of you guys commenting on a recent post I was able to check out my local T.J. Maxx for deals on some great palettes at a discount! The company theBalm has a great limited edition Muppets Palette called Cast Your Shadow coming out in limited quantities (1000 palettes, that's it!) soon. I was able to preorder it the other day and its $44.50.
The palette pictured above the Balm and the Beautiful is the same thing but it's at T.J. Maxx for $19.99! They also had the new Meet Matt(e) palette for $16.99 instead of the full price which is $34.50. Both are brand new palettes so this is a great deal. Some Marshall's stores have the Shady Lady Palettes at a discount too. I checked Marshall's today and they had the 2nd Shady Lady palette but it really picked over so I left without it. I really encourage you to check both stores if they are near you or call for details. T.J. Maxx had a lot of different stuff from this brand. Bronzers, blush, nail polish, and skin care products which I didn't even know they made! All at half the original price.
the Balm and the Beautiful Palette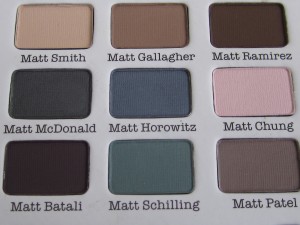 Meet Matt(e) Palette
Thanks again for the heads up T.R., I hope some of you find these palettes and save some $$. I wasn't even going to get the Meet Matt(e) set of shadows but at half price I was all in!