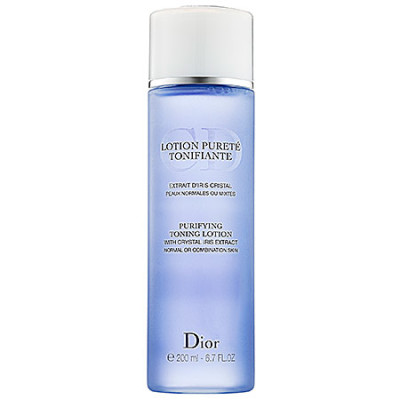 I am not what you would call a toner girl. I very rarely use the stuff! But during a birthday skin care splurge I picked this super fancy toner up from Dior. I'm glad I did and I'm kind of kicking myself. It's good stuff. It really cleans all the extra stuff off my face (I use a cotton ball) well and gives me a fresh clean face that is ready for additional skin care products. I love the idea of using this extra step to make sure my skin is absolutely without a doubt free of makeup. But the price! It's killing me…
I don't know why I don't use toner regularly-maybe its because of my bad experiences with the stuff as a teen? I think that might be what happened. My skin got dried out so badly from things like Sea Breeze that I really just had to give toner up. Now I understand that I was just using the wrong one. This is a great pitstop on the way to using my favorite serums. I feel like after using this toner my serums get smoothed into extra smooth and product free skin. The drawbacks for this toner are the price ($35/6.7 oz.) and the flowery scent in my opinion. I love the scent but boy it is fragrant! If you are not a fan of very noticeable scents in your skin care products you might want to give this a pass. It's a clear toner but I love the beautiful blue tinted bottle. Dior knows how to package their products thats for sure.
From the sephora.com website:
What it is: A toning lotion that purifies.
What it is formulated to do: This lotion goes a step beyond cleansing to remove any remaining traces of impurities while balancing the skin for a fresh complexion that's perfectly prepped for moisturizer.
Suggested Usage: Morning and evening, apply with a cotton pad on face and neck after makeup removal or cleansing the skin.
So I do love this but I'm looking for a replacement. I've been using this sparingly only in the evening so far. I don't feel like I need it in the morning for the most part. I talked about this toner in this weeks Makeup Monday YouTube video and I got a lot of great toner suggestions from watchers with combination skin. Please feel free to comment below if you have any recommendations for me I really appreciate it!