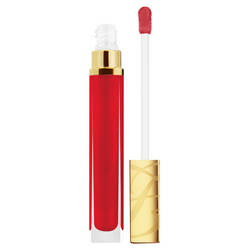 This lip lacquer looks amazing on but it's a bit hard to work with. It's hard to smooth on for one. The thickness of the formula is why so if you are not a fan of sticky gloss you might want to stay away from this. This color is like a liquid lipstick which is what a lot of people like. I'm a fan of color that stays put well and this does but smoothing it on and getting it to even out will make this a bit more work than some would like.
At $25 a tube these Pure Color shades are interesting. I love the colors offered. There is a little something for everyone in this range.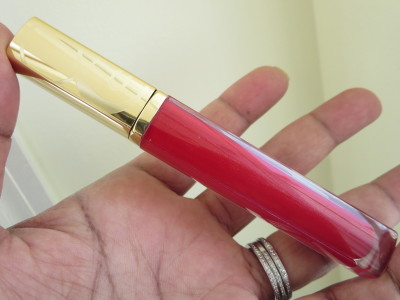 From the Estee Lauder website:
The liquid light of lacquer. The full impact of lipstick.
Richly pigmented lip lacquer creates luscious, wet, brilliant color. Provides the full coverage of lipstick with the ultra shine of lacquer.
6-hour color brilliance. Glides on smoothly and evenly with an instant intensity. Use the tip to create lip-shaping curves, then the paddle to fill in color and shine.
Creamy and moisture-rich with a lip-caring blend of Vitamins C, E and conditioners. Lips feel hydrated and comfortable.
True Vision™ technology delivers maximized color impact. Magnified vibrancy, clarity and dimension. Amplified brilliance.
The sparkle in Hot Cherry is what makes it so special to me. It's a fun glittery red. I took a close up of the tube so you can see a little of the sparkle.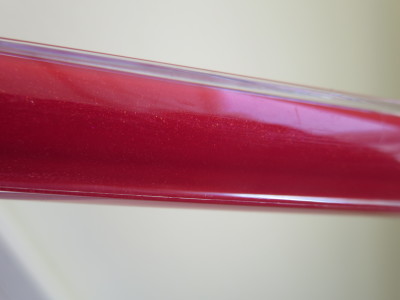 All that being said the color does look really amazing on. It's sooo glossy looking!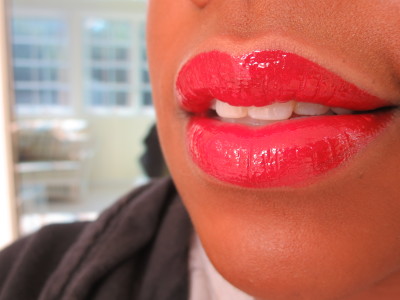 It kinda glows doesn't it?
Nice. So if you are okay with a little babysitting then look into this. Some colors are so beautiful its kinda worth it.