Estee Lauder Pure Color High Intensity Lip Lacquer-Wet Plum, $25 at Nordstrom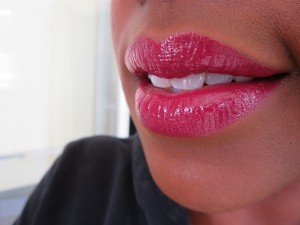 I love this stuff! I heard that this lacquer from Estee Lauder would last forever and oh my goodness is that ever true. It lasts longer on my lips than any gloss like product I've ever used on my lips. I mean ALL day. It doesn't go away and it looks the same when applied as it does eight hours later. No touchups needed. NONE. Your lips stay nice and moist while wearing this for all those hours too.
It can bleed a little around the edges depending on what condition your lips are in. When my lips are sore or not well moisturized I have problems with the color bleeding out of my lip line on the bottom. Other than that this stuff is perfect. Okay well it does smell like playdough but it doesn't taste like anything. Yay!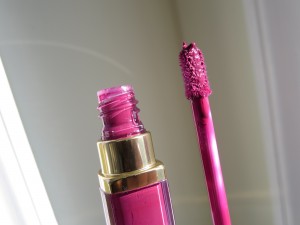 There is a really nice applicator in the tube and plenty of colors to choose from on the Nordstrom website and in store. Check this out if you want something that lasts like a champ and requires little to no touch ups during the day! Oh and the pigmentation is out of this world. In the pictures for this post I have one thin layer of product on. I am stunned by how good this is. Go Estee Lauder!
From the Nordstrom website:
Estée Lauder's Pure Color High Intensity Lip Lacquer features the lightweight feel of a lacquer combined with the full-impact of a lipstick. The richly pigmented formula gives you luscious, brilliant, full-shine color for up to 6 hours while providing you with all of the coverage you need. Plus, its creamy, moisture-rich formula with a blend of vitamins E and C keeps lips hydrated, comfortable and totally gorgeous.