I'm in love with matte lipstick overall and I have several red shades but now I have the perfect PINK matte!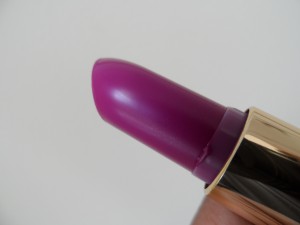 Like it? Well it looks even better on!
Violet Crush-$25
I love it. And it's not one of those dry moisture sucking crappy mattes either. I hate matte lipstick that feels dry. This feels balm like texture wise and lasts three to four hours no problem. I need minor touch ups after drinks and meals.
There is also a deeper shade called Black Cassis in the Violet Underground Fall 2012 Collection. I might check that shade out next! Get to your favorite Estee Lauder counter to take a look soon, these might not be around for long. I know the Violet Underground Palette is in high demand also.
Have you seen this at the store? Are you tempted? I caved in thirty seconds flat at the Nordstrom counter!