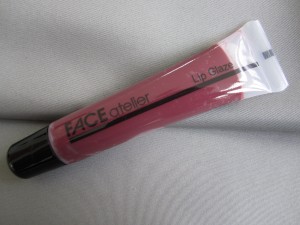 Shiraz Lip Glaze (.5 oz.) $24
I'm a little nutty about lip gloss. I love it and I like to try different kinds. It also isn't strange for me to have four or five different glosses in my purse at any given time. So I was excited to try this Lip Glaze from Face Atelier.
Shiraz is a beautiful color. Face Atelier describes their Glazes as shiny, non sticky, and smooth as glass. I'm glad to report that they are all that and more! This formula is really moisturizing and lasts throughout the day. I re-applied once on average per day and the rest of the day my lips felt wonderfully moisturized and the color looked fantastic.
Ahhhh the color. I love this color because it's so beautifully pigmented. Rarely do I find glosses that have this much color/pigmentation infused in them. I have deeply pigmented lips, so weakly pigmented glosses just don't cut it! There is just the right balance of color and shine. The formula is flavor and fragrance free as well which is nice.
This glaze is going in my purse where all the best glosses end up! Have you tried a Face Atelier Lip Glaze?
Rated A
Disclosure: This product was provided by the manufacturer for review.