Whenever I find a good nude lipstick I rejoice! It's hard to find something that looks good and feels decent that doesn't break the bank. I am not a huge fan of L'oreal lipsticks traditionally but this one is the exception. Nature's Blush is a great nude on my Mac NC 50 skin tone. The thing that turns me off about L'oreal lipsticks is the smell. It's a small thing but thats why I don't have many of them. They smell like baby powder to me which is a killer.
I found Nature's Blush during my hunt for great nude drugstore lip glosses. I did a series on those a while ago and came upon this lipstick shade. It lasts for several hours and despite the smell that I try to avoid I appreciate that there is no taste to this lipstick. It's under $10 so take a look and maybe you'll love it too!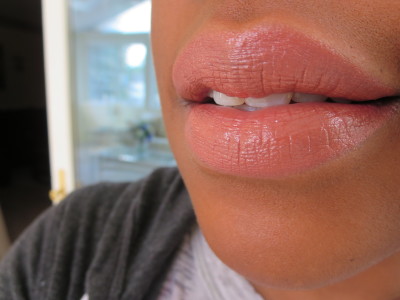 I use all the great nude drugstore glosses I found in that series I did with this lipstick. I also wear it alone. It looks beautiful all on it's own. I have dressed it up a bit with a chocolate liner from Milani also. Basically everything I've tried has worked so it's not a fussy shade.
Check out Nature's Blush on your next visit to the drugstore. Or look into Revlon Mink Lipstick that's another drugstore favorite of mine. Even if those two aren't the nude for you maybe you'll find the one that is!