Mac Rebel Lipstick, $15 at maccosmetics.com
After last weeks drugstore lip gloss posts I was asked to do some posts on my favorite Fall lipsticks. I am more than happy to do that. I'll be posting on favorites in every price range so they'll be something of interest to everyone I hope. I'll concentrate on shades that are available right now and have a decent formula. After all wearing Fall lipstick should be fun because who wants dry cracked lips-not me! I also will be posting shades that I haven't featured yet.
Some of these colors have been in my stash for a while but I just haven't posted pics of them on my "mug" for you. Enjoy!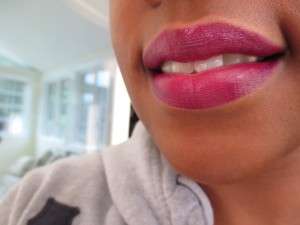 As you can see I slap Rebel on. I don't worry about my cupid's bow or anything I just smooth this baby on and roll out. It's comfortable to wear and one of my favorite deeper Mac shades. It's a satin finish which isn't my favorite but I must say it feels great all day long on my lips.
I see Rebel as a great gateway lipstick into the dark side. If you haven't tried a darker plum shade before this is an excellent start. It's one of those shades that enhances your skin tone and if you are fair or deeper skinned you won't look like you are trying too hard. Since its comfortable to wear and the formula is good you won't have to babysit. I hate doing that. Sometimes with darker shades you feel like you have to look in the mirror all day long. Just to make sure you don't look crazy! Not with Rebel. You'll be good to go. Touchups after major meals are just about all you have to do.
Have you tried Rebel yet? Let us know!
I can't finish this up without saying…last night a little dancer came dancing to my door….