Wet n Wild Mega Last Lip Color Cherry Picking, $2 at Walgreens
I had to do it! I did a blog post on Cherry Bomb the other day and it just made me crave wearing my other two Fall favorites from Wet n Wild. Cherry Picking is absolutely amazing. I mean it just looks alive on the lips! At $2 pigmented color like this is a thing of beauty.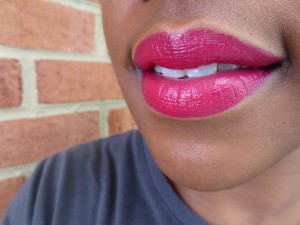 Today I wore a balm under the lip color. I'm having a dry lip kind of day. Don't you hate that? I just love this bright beautiful shade and it's just an eye catcher! I can't take my eyes off of it when its on me. That sounded so strange….and creepy.
You get it right? Have you tried this one? It's a little on the brighter side of my Fall favorites. I don't think about just very deep shades for the upcoming season. I think there's a place for beautiful reds and other brights like this year round but especially as the cooler weather hits.
Do you have this shade? If not have I made you want it? Hope so!
If you love the Mega Last line check out all the shades in my stash in this YouTube video if you have time!