Becca Ever-Matte Shine Proof Foundation in Sienna, 1.35 oz/$42 at Sephora
When I heard about this foundation release months ago I did backflips inside. I love Becca's Ever Matte Poreless Foundation Primer. I reviewed it last June and loved it. It kept me matte for so long and during the Summer for me thats huge. And now a foundation to go along with the primer? Hellllo! Now I originally reviewed this foundation in a Chopping Block series video on YouTube in November. I thought I'd do a blog post on this foundation as well because it's something you should know about if you have skin like mine! Finding the right foundation for your skin can seem like an endless search. This foundation series is going to show you what I've found and liked along my journey.
I had a lot of faith because whenever I use products from Becca they look so natural. No strange mask of color and it looks like my skin but better. Thats all I can ask for in a foundation. Sienna is my perfect Summer shade. It is slightly darker than what I can wear right now. Sienna is described as a warm brown with neutral undertones. There are so many shades in the range almost twenty on the Sephora website. For a medium coverage foundation it's incredibly light. It smooths on like a dream. It was instant love for me. I would highly recommend checking this one out if you suffer with an oily t-zone. I can go all day with this and thats saying something. I usually have to touch up my t-zone by lunch time. Not with this. And when I use the primer along with this foundation? I am darn near shine proof! They are a duo that might be the answer to your issues. They are the answer to mine!
From the Sephora website:
What it is:
A creamy, medium coverage foundation controls shine throughout the day and leaves an exceptionally smooth, matte finish. 
What it does:
This long-wearing medium coverage foundation features a unique microfine powder that absorbs oil so your complexion remains fresh and shine free throughout the day. Created for combination to oily skin, this foundation minimizes the appearance of pores and fine lines, and creates a lasting soft-focus effect. 
What else you need to know:
This product has been dermatologist tested and is formulated without oil, alcohol, and fragrance. 
Sephora is the exclusive beauty retailer for this product.
Take a look at Sienna on the skin. It's a thicker formula medium coverage foundation and a little goes a long way. Note that as I said earlier in this post this is my warm weather shade. It's a little richer brown hue than I am right now!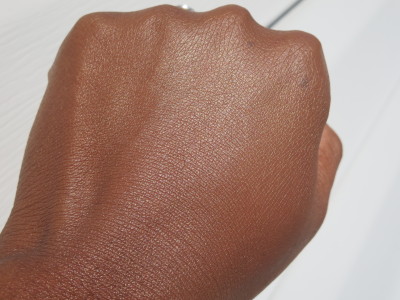 Becca products are available on the Sephora website or on the Becca website (click here) so take a look. Check this foundation out if you have combo or oily skin and don't forget to research the primer as well!