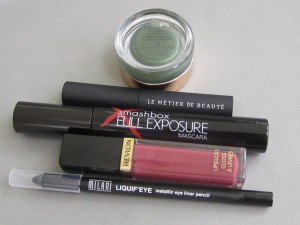 I thought I'd tell you about five products I've been unable to put down since I got them! It's getting ridiculous how much I'm loving this group of products. There is a mix of high-end and drugstore beauty so here we go!
I got this recently and I've been wearing it out. Estee Lauder's Double Wear Stay in Place Shadow Creme in Enchanted Forest. I got this on sale at the Cosmetics Company Outlet for $12.25 but these are regularly $17.50 each. This stuff doesn't move and makes a nice base shade for eye looks. I also have used it alone and it's just beautiful. I got an email from Estee Lauder earlier this week and they have some new colors available. Talk about timing, I've got to get more of these!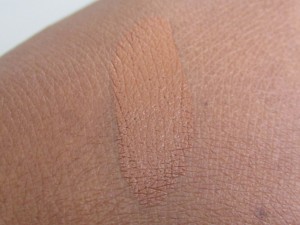 I am in love with this, it's Le Metier De Beaute Classic Flawless Finish Concealer shade #12. I got it last week and it's one of the best color matches for me ever. I would love to use this all over my face. It covers EVERYTHING. It's smooth, easily blends in, and doesn't crease. I want this in my life forever…dramatic huh? It's true. It's $55 a tube…give me strength!
I am loving this Smashbox Full Exposure Mascara in Jet Black. I love the brush, it's HUGE! I have been able to volumize my eyelashes to new heights with this baby. It's a buildable formula which is good because I like to go in for 2-3 coats and did I mention how big the brush was? Yeah it's massive and I like that! This is $19 a tube.
Disclosure: This product was sent to me for review by the company.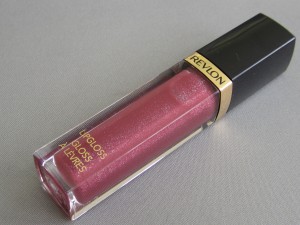 Revlon Super Lustrous Lip Gloss in #90 Pearl Plum. This is so sparkly and beautifully glossy. Does that make sense? Anyway I love it. It's really moisturizing and has a fun shot of color for your lips. You can feel the glittery particles in the gloss but it's not annoying and it's not overly sticky. This was $8 at the drugstore, can't beat that!
Milani Liquif'eye Metallic Eye Liner Pencil…I've heard a lot about you and it ALL was true. This is an amazing eyeliner and the deep black shade I have been wanting in a drugstore brand for years. It is SUPER BLACK. It goes on as smooth as any eyeliner that I have ever used. You hardly press down and there is a deep black line there. So unbelieveable…at $7.99 this is not to be missed. I got a brown one also but I haven't been able to tear myself away from this black pencil yet!
Swatches of a few things starting from the left: Milani Liquif'eye Eyeliner Pencil #01 Black, Revlon Super Lustrous Lip Gloss in #90 Pearl Plum, Estee Lauder Double Wear Enchanted Forest Eye Shadow, Le Metier De Beaute #12 Concealer.
Have you tried any of these products? Do Tell!