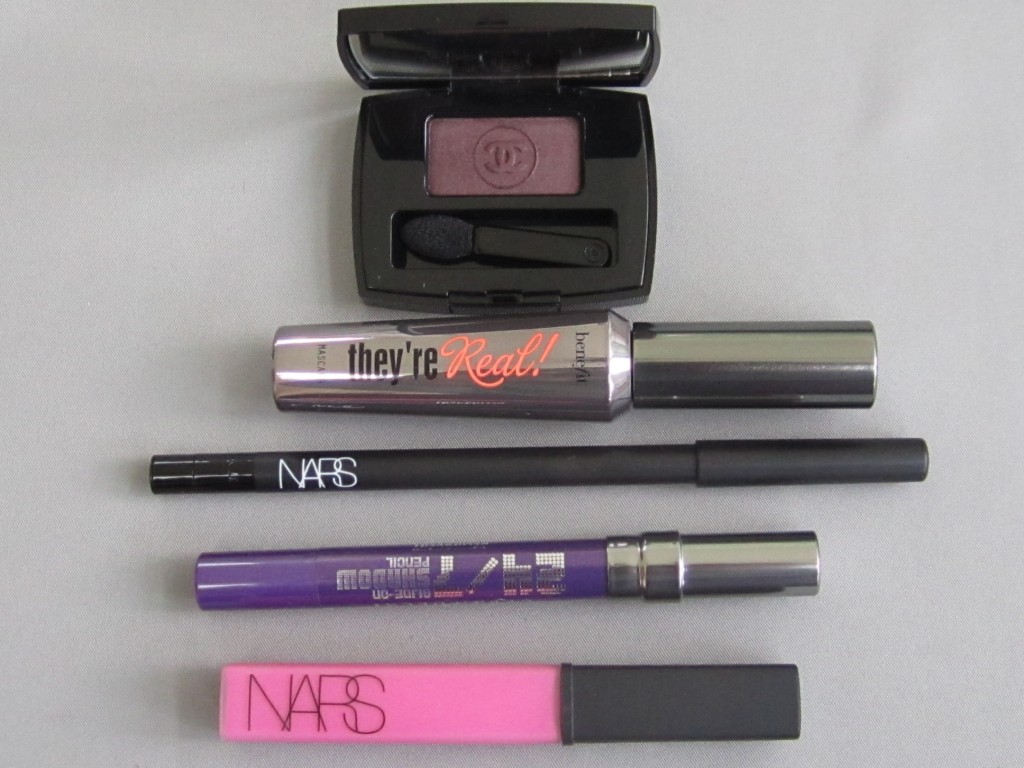 There are a few things that I have been using all week like my life depends on them and I thought I'd show them to you. I'm going to review some things in more detail later but here's a quick list of the items pictured above.
From top to bottom….
Chanel Magic Night Eyeshadow- This is one of those colors that is so perfect. The texture and color payoff are something else. I've been rocking it in my crease or all over my  eyelid. It's just amazing let me tell you. Its been released before but thank goodness I've got it finally. It is actually worth the $28.50 to me, never thought I'd say that!
Benefit's They're Real Mascara(*press sample)- I was so excited when I got this. Its fantastic and I'm going to do a whole review on it. I think I'll do a YouTube video on it next week just because it's so interesting to me. I'm obsessed! I love the brush and the formula.
Nars Larger Than Life Via Veneto Eyeliner- After using this two days it reached Holy Grail status with me. I love how creamy this liner is and it stays put. This is a true black shade, no green or blue-ish tints. Its super BLACK and I love it. In my waterline it stays put, I've clocked it at 9 hours. Better than all the other eyeliners I've got.
Urban Decay Delinquent 24/7 Shadow Pencil- I love this pencil. I'm nuts about purple and the glitter in this is enough to make me giddy. I line my upper lid and inner corner with this baby most of the time when I don't really want to look like a SOUL TRAIN DANCER but it's so cool if you use more but only at night. IT's a little showy:) I wish these shadow pencils were cheaper I'd get them all.
Nars Angelika Lip Gloss- This is bright pink goodness in a tube. The first time I put it on I was thinking is this too bright, too pink, and too much? But Barbie and Nikki Minaj would never think those things so I calmed myself down and I've been wearing it for days. The shimmer is very subtle. I love it.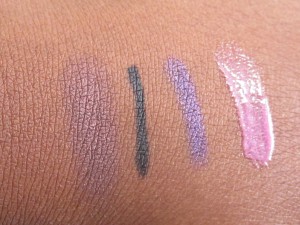 Magic Night Shadow, Via Veneto Eyeliner, Delinquent Shadow Pencil, Angelika Gloss swatches left to right.