Image: Nouveau Cheap
Not long ago I showed you the first three (the post is here) Maybelline matte lipsticks I got and now I am here to show you the other four that I picked up. In my haul of these lipsticks on YouTube I didn't have Touch of Spice but I picked it up at Ulta earlier this week so I though I would include that shade in this post since its one of my favorites out of the whole bunch!
Here's a copy of the quick review I gave these from my original post:
My review on these is really simple. There isn't any smell or taste with these lipsticks and at $5.49 they are a steal! The only other thing that I feel it's important to note is that your lips should be in decent condition before you slap these shades on. Fake it with a thick balm if you need the extra moisture but peeling lips and these lipsticks do not mix! They are creamy mattes as advertised and smooth on like butter but your lips can't be very dry or flaky. I find that I am able to wear these four hours or more depending on what I'm eating and drinking.
Here are those lip swatches! First up Touch of Spice #660. I gotta tell you I love this one! Instant favorite.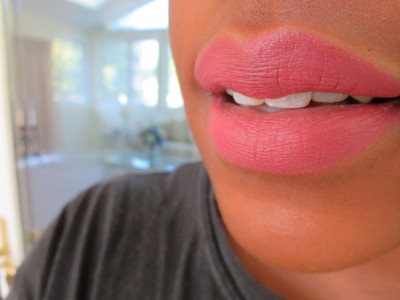 And the pretty delicate pink Lust for Blush #665.
This one is another immediate favorite! Craving Coral #685. This one is so gorgeous on the lips!
And last but not least the diva of the bunch! Divine Wine #695.
So those are all of the new Maybelline lipstick shades that I picked up. Check these out when you see them at your favorite drugstore, Target, or Walmart! I highly recommend them. And the nice thing is there are a few great shades for any lipstick lover out there.